at no faster rate than when I'm reading blogs.
It's Jen @ you know that blog's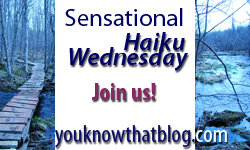 rescuing me from my usual mid-week blog infarction.
Jen's theme today is "Time."
Ah, time. That fickle mistress. She slows down when I want her to fast forward past the bad stuff, the tedious waiting, the checkout lines, the lady who doesn't get out her checkbook until the checker gives her the final amount, the long days at the office when I'm counting the number of sessions, hours, until I can pack up and head home.
But when I want her to s...l...o...w down, when I'm hurrying to get myself ready for work, when the ticking of the clock whispers, look at me, please, pay attention to me..., time is not my faithful friend. Oh no. She abandons me.
blogs and comments and pictures
Be sure to check out Jen's
haiku
. A different, deeper level of how time flies.